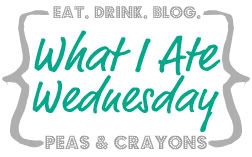 I meant to take pictures of everything I ate today to share with you on this lovely What I Ate Wednesday.

But I only remembered to photograph my food twice.

And they aren't even very good pictures... But oh well...

So here we go!
Breaky:
Water - lots of it!
Coffee with soy milk and 2 packets of stevia in the raw
A banana
Mid-morning snack:
(not pictured - obviously)
Vegan, Gluten Free banana nut bread.
(That I forgot to photograph until the last 2 bites. HA!)

I'm an awesome food blogger...
And that was the end of my food pictures. I'll try to do better next Wednesday - I promise!
Lunch: leftover
Hippy Loaf
, green beans and mashed potatoes.