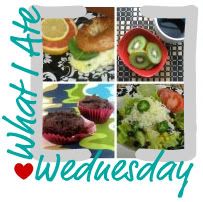 I had leftover
grits casserole
for breaky - then around lunch time I felt like cooking...
And so I cooked. I cooked a LOT.
I needed to use up the spaghetti squash in the frig - so I de-seeded it...
and put it in the oven to roast...
While that was roasting - I threw together a "clean out the fridge veggie stew" and let it simmer all afternoon.
It consisted of veg broth, lentils, tomatoes, wax beans, kale, garbanzo beans, navy beans, onions, potatoes and my favorite spices.
YUM!
Then it was time to rake out the spaghetti...
And don't forget the kale chips - they hit the dehydrator today...
I threw in some broccoli and served it over spaghetti squash.
Pure. Heaven.
After my dinner of soup, I had to indulge in a bit of Justin's Chocolate Hazelnut Butter.
This stuff is my newest obsession...
I've only had this jar for a week - and yes, I eat it directly out of the jar.
It's THAT good.
What did you eat today?